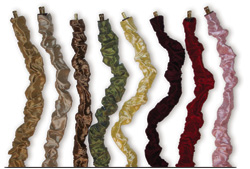 Welcome to Cord Coverup® by A&M Designs, Inc. We are your best source for decorative cord covers using the finest fabrics available. Fabric cord covers have been custom made for years by Interior Designers with large price tags. Now, we have these decorative lighting accessories ready made in the USA with great prices for everyone who needs to cover up ugly cords, chains and cables.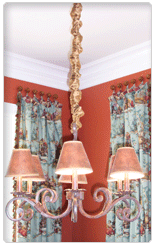 A&M Designs offers three styles of cover-ups. Our most popular style is our Chandelier Style Cord Coverup®. This fabric cord cover has sewn in Velcro® so you DO NOT have to remove your chandelier prior to hanging. This chandelier chain cover is also great for bundling large computer cables. This 6 foot electrical cord cover is easy to apply, and best of all it is easy to remove to clean or change out seasonally.
Our Lamp Style Cord Coverup® is an excellent product for hiding lamp cords, picture light cords and appliance cords. This decorative cord cover is longer and narrower than our chandelier chain cover style. No Velcro® is needed in this style of cord cover.
Our Wrap Style Cord Coverup® is another chandelier chain cover and lamp cord cover alternative. This silk cord wraps around your chains or cords. It's affixed with adhesive Velcro® at the bottom for a secure fit. This style cord coverup looks great on petite chandeliers as well as on small lamp cords that have been shortened under 3 feet long.
» Click Here to View Our Products.

» Click Here to View Our Other Accessories by A & M Designs.